February is my first blogaversary so I'm teaming up with fellow bloggers Seven Alive all Livin' in a Double Wide and Petals to Picots to bring you a really fun crochet themed giveaway.

If you are a crocheter, have wanted to learn how to crochet, or know someone who crochets or wants to learn how, you are going to want to enter this giveaway.

Advanced crocheter or novice, this big sweet deal is all about crochet.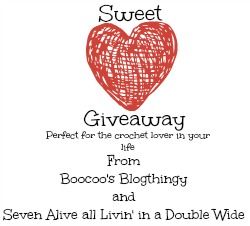 Here's what you could win.

A rolling storage container with pull-up handle.
4 skeins ~ Deb Norville, bulky in denim colors
Folding hook and accessory holder (the purple standing thing)
1 set Susan Bates plastic hooks F-K
1 book ~ 50 Crochet Squares
1 book ~ 99 Granny Squares ( both from Leisure Arts)
4 skeins ~ Baby's Breath by Bernat
1 giant (1000 yards) ~ Classic Crochet Thread size 10
1 pair ~ Craft Gloves
Any 2 Patterns from Petals to Picots.

Yep, that's a lot of crocheting goodness. Raffelcopter is going to walk you though the entries. Giveaway is open from Feb 4th to Feb 14. Open to US only.
Good Luck to you all.
a Rafflecopter giveaway